BLOG • Digital Wallet
What is a digital wallet?
14 MIN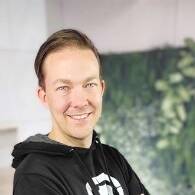 by Geofferey Pagel
DISCOVER MORE OF WHAT MATTERS TO YOU
A digital wallet is an application, or online service, that allows your customers to make payments without opening their actual physical wallet. Digital wallets are available as apps on mobiles, tablets, and even smartwatches. Customers can also use them on PCs, usually through a web browser!
Since they are found mostly on mobile devices, these wallets are called mobile wallets. Other common names include virtual wallets, electronic wallets, or simply e-wallets.
Digital wallets support both online and offline transactions. They can be used for online websites, apps, offline stores, cafes, and supermarkets. They also allow users to send payments to friends and family, provided everyone is using the same digital wallet.
Thanks to their speed, simplicity, and ease of use, digital wallet use has skyrocketed among customers in recent years. In 2022, there were an estimated 3.4 billion digital wallet users in the world. That number is expected to hit 5.2 billion by 2026, or in other words, 60% of the global population.
Businesses and merchants are also stepping up. A VISA survey from 2022 indicated that over 80% of small and micro businesses accept digital payment options like e-wallets. If you have any kind of business that caters to retail consumers, accepting digital wallets is a no-brainer in 2023.
How do they work?
Digital wallets work by storing all payment information in a single secure location. This includes your credit cards, debit cards, and online banking information. Some digital wallets also include other features, including coupons, gift cards, loyalty cards, other IDs, and even your car keys.
Most banks these days provide a digital wallet as part of their service in addition to a physical card. Mobile hardware and software companies also offer branded mobile payment apps – Apple Pay, Google Pay, and Samsung Pay are all popular examples.
Although you can access digital wallets from a desktop computer, mobile is where they truly shine. These apps work best when they have access to smartphone technologies like WiFi, NFC (more about NFC below), and QR code scanning.
After you install a mobile wallet app, it will ask you for card information. The wallet stores financial information in the service provider's secure servers (on the cloud). The system links all your credit card numbers, and bank accounts to a unique digital token in the wallet mobile app. 
Using a digital wallet for online payments
For online payments, the user has to select the wallet from the list of available options on the merchant site. They will be asked to provide an account identifier, which is usually their mobile number or email ID.
The system will send a payment request to the user's wallet account, then the user has to open the wallet app on their phone and authorise the transaction using a passcode or some form of biometric authentication.
Using a digital wallet for offline/in-store payments
Stores that accept digital wallet payments will have a dedicated payment terminal or card reader at the checkout counter. There are several ways to complete an offline transaction using a digital wallet. NFC and QR codes are the most common methods used.
The customer can scan a QR code available on the merchant's counter to send payment. They can also wave the mobile device close to the NFC reader device or tap it with the phone to initiate the transaction. Then all that is left is to authorise the payment using the wallet security code. 
How to accept digital wallet payments as a business
If you have an online business website with a payments page, accepting digital wallet payments is extremely easy. All you need to do is find an online payment processor that supports digital wallet payment integration. 
And since digital wallet usage is on the rise, virtually all competent payment processors support them. Payment processors also provide store-based solutions for offline merchants and other retail businesses.
When it comes to offline digital wallet payments, store owners have several options based on different technologies. In the past, this included NFC, MST, and QR codes. 
MST or magnetic secure transmission is an older technology found on some smartphones and most credit and debit cards. Due to security vulnerabilities, MST is gradually getting phased out of the market. That leaves us with two major options for contactless payment functionality in a store: 
In-store payments through NFC
Near-field communication (NFC) technology uses electromagnetic signals to connect and transfer data securely between two devices. It requires special NFC chips on both devices. And they have to be very close to each other since NFC is a short-range communications technology.
You need a customer-facing NFC payment terminal at your store for this type of payment. Your payment service provider will usually take care of delivering the hardware and providing basic training for your staff.
The wallet will collect details about the payment from the terminal. The customer can authorise the payment using either Touch ID, face unlock (on Apple devices), or a security PIN/pattern.
Once authentication is confirmed, the cash will be instantly deposited into your business account.
Payment via QR codes
While NFC is available on iPhones and other premium/mid-range mobiles, you cannot expect every customer to have it on their phones. A QR code system is an affordable and efficient way to extend digital wallet payments to people using entry-level smartphones.
You can easily get unique QR codes for your business from your payment service provider. Many mobile wallet apps also provide QR codes to their merchant accounts. These days, many Point-of-Sale (POS) systems come with integration for digital wallets and QR codes.
QR codes are unique bar codes that store information like the link to a store's wallet account. You will have to will display your  QR code prominently at the checkout area, usually near the POS system.

To initiate the payment, the customer will open their mobile wallet app and scan the code.

The app will scan the information on the code and open a payment window to your store account.

The customer can enter the bill amount and authorise the payment.

Upon successful authentication, the digital wallet will transfer funds to the store account.
Apart from store payments, the QR code system allows digital wallet users to send money to friends or family quickly. Some digital wallets can even be used at ATMs to withdraw cash. 
What are the different types of digital wallets?
For the purpose of this article, we can broadly divide them into four main categories with distinct features and limitations:
1. Closed wallet
You can only use a closed wallet on a particular website, usually for e-commerce transactions. Amazon Pay is an excellent example. You can only use the digital wallet to buy products on the Amazon marketplace or for bill payments to selected service providers available on the platform.
If your business is on Amazon, you should have access to Amazon Pay Wallet payments by default. Amazon also allows small business owners to register and gain access to Amazon Pay for their websites in some markets.
2. Semi-closed wallet
A semi-closed wallet offers more freedom than a closed wallet. You can use it for external payments, but only at a limited number of businesses and stores.  The vendors should have a contract with the digital wallet issuer. Apple and Venmo are prominent examples.
If your business already accepts credit cards and has a payment processor, getting Apple Pay is relatively easy.  Just ensure that your credit card processor accepts Apple Pay and provides integrations for the digital wallet.
3. Open wallet
Open wallets offer all the features of semi-closed wallets with additional features. You can connect the wallet directly to your bank account for transfers. They also support peer-to-peer payments and link to other payment systems. Wallets issued by banks, Paypal, and Google Pay are examples.
In China, the world's largest market for digital wallets, AliPay and WeChat started as closed wallets. But these days, they have expanded their services and allow users to pay at external businesses and stores. The lines between open and closed wallets can often be quite blurry.
4. Crypto wallet
A crypto wallet is just a type of digital wallet that is used exclusively to store cryptocurrency. Although Bitcoin and Ethereum are popular among cryptocurrency enthusiasts, these tokens are not often used for payments due to extreme volatility. 
Stablecoins, which are cryptos that track the value of a real currency, the US Dollar or Euro, were created to solve this issue. These days crypto wallets are becoming more common for digital payments, especially in countries with high inflation and inadequate banking systems.  
How to pick the best digital wallet for your business?
There is no straight, universally applicable answer to this question. The utility of a wallet depends heavily on multiple factors.
1. Your customers
This is often the decisive factor in picking digital wallets for your payments page/store checkout counter. There is no point in providing support for a wallet none of your potential customers use.
For instance, if your business receives a lot of visitors from China, Paypal or Google Pay will not suffice. The vast majority of Chinese customers use either Alipay or WeChat Pay. Supporting these wallets will help you get more business from the estimated 150 million Chinese who travel abroad each year.
However, if your business mostly caters to local clients, there is no point in getting Alipay. You will have to conduct some market research to figure out the digital wallet preferences of your target customers before making a decision.
Ideally, you want to cover your bases by supporting both Apple Pay and Google Pay. Wallets issued by Paypal or banks are usually platform-agnostic, meaning they will work on iOS and Android.
2. Your existing payment infrastructure
Look at your current credit card/online payment processor. Do they have support for all the digital wallets used by your customers? If the answer is yes, you don't have too much to worry about. Problems arise only if your existing processor lacks the necessary wallet integrations.
In stores and shops, older payment hardware often lacks NFC support. If that is the case in your business, you will need to invest some cash to upgrade your terminals. Newer POS terminals require no additional investments since they already have NFC support.
3. Security, reputation, other features
If you are adding integration for major service providers like Apple Pay, Paypal, or WePay Chat, security should be slightly less of a concern. The big names have the deep resources necessary to keep their digital wallet payments secure.
Many digital wallets also provide value-added services and loyalty programs for merchants. These can include additional tools to enhance customer engagement and online marketing. If these things matter to you, it pays to shop around different  wallet providers  before picking your digital payment methods. 
Benefits of using digital wallets
Cash has been a staple of our offline markets and stores since we can all remember. And credit cards have served merchants and consumers alike since the 1950s. These payment methods still work just fine. So, why should you bother about adding digital wallets to your business?
Barring a few situations, mobile wallets offer a superior payment experience that cash and credit cards simply cannot match. Wallets guarantee faster transactions, greater convenience, improved safety, and fraud prevention.
No additional fees or charges
Mobile wallet transactions inside a store are considered card-present (CP). Higher charges and interchange fees only exist if the transaction is a card-not-present (CNP) transaction. Online payments are considered CNP and cost additional interchange fees.
Even if you integrate digital wallets into your website, the costs are still reasonable. They never exceed the charges already levied on online card transactions.
Vastly improved security
Credit cards are notorious fraud magnets. They get stolen or lost quite easily and can lead to payment reversals which are quite frustrating for businesses. Digital wallets can significantly reduce the risk of credit card fraud in several ways.
The customer does not have to carry their cards in person, reducing the risk of stolen or misplaced cards. Digital wallets on stolen devices are not easy to crack since they often require fingerprint or facial recognition to get access to the virtual card data inside. 
Sharing any banking information with a third party will expose you to some element of risk. This is true for online and offline transactions. Digital wallets remove this threat using an additional layer of security. When you save your card details on a digital wallet, it assigns a unique code or token to each card.
During transactions, the wallet will use the token to represent the customer's card or online bank account. The actual card data is never let out to third parties. This system is called tokenisation. And it is a major deterrent against card fraud and other types of financial crimes.
Health and safety
Another issue that has popped up since 2020 is the risk of infections. Currency notes and coins are notoriously unsafe in this regard. They can contain bacteria, chemicals, and even viruses.
Contactless payment is your best bet to minimise the risk of catching or spreading COVID-19. Encourage the use of digital wallets and cards among your customers for all your in-store payments and transactions.
And since NFC terminals support both cards and digital wallets, you can still serve customers who prefer paying the old-fashioned way. It is a win-win for all parties involved.
Improve revenue generation
Consumers are increasingly switching from card and cash payments to mobile wallets. In 2022, 96% of consumers in the UK had used contactless payments, according to a survey conducted by Marqeta research.
Over 60% of people are now comfortable with the idea of leaving their wallets at home. With the younger Gen-Z crowd, that figure stands at 77%. At this rate, only 6% of all future transactions will be cash-based by 2033, according to UK Finance.  
More reads you might like
Image
GDS offers many advantages for hotels seeking to enhance their occupancy rates and overall performance, allowing them to thrive in a competitive hospitality landscape. These systems offer a gateway to a global network of travel agencies, online platforms, and travellers, offering unparalleled opportunities for growth and success.

Image
Payment gateways play a crucial role in the payment process. They encrypt and then securely transmit a customer's transaction data to the acquiring bank's payment processor. If you run a business that accepts card payments, then understanding this is essential. This is how you setup a payment gateway.
Image
In the evolving landscape of the hospitality industry, adopting hosted solutions is less of a choice and more of a necessity. Drawing from two decades of experience, it is evident that transitioning to hosted solutions isn't merely a matter of enhancing efficiency; it's about reshaping how we manage data in the sector, fostering a more adaptable and reliable business model.