BLOG • Hotel management system
Hotel Management System (HMS): A complete guide
9 MIN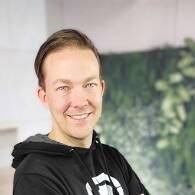 by Geofferey Pagel
DISCOVER MORE OF WHAT MATTERS TO YOU
Hospitality is an ever-changing industry that requires fast-paced technological solutions. Hoteliers need a trustworthy management system to keep guests happy and everything running well.
But what is a hotel management system, and why is this software crucial to modern hospitality businesses?
Today we're exploring everything you need to know about hotel property management systems. From the different options available to the top software features, we're looking at how this system could benefit your hotel business.
What is a Hotel Management System (HMS)?
Hotel management systems provide tailored solutions to keep your hotel business operating optimally.
The software is optimised for the hospitality industry and operates as a central database for all hotel information. All necessary data is accessible to management and employees in one secure location. These days, HMS' are cloud-based for easy online access.
Data flows to and from all the different departments as all features are connected.
Managers use this system to schedule, manage, and view daily operations all in one place. Plus, other staff can log in and view data relevant to them too. All information in one place, viewable by everyone.
What is a Property Management System (PMS)?
A hotel PMS handles room bookings and all booking channels. This includes check ins, front desk operations, billing and invoicing, and reporting and analytics.
PMS also provides room maintenance and cleaning data, helping staff prepare suites for new guests and maintaining customer relationships.
There are two types of PMSs : Cloud-based and on-premise. Read below to see how these options differ.
Cloud-based PMS
For a modern hotel management system, cloud-based software might be the option. These systems offer easy usage, with functionality at the front of their design. Hotel PMS is evolving in this direction.
On-premise PMS software
Though on-premise software has been around for a while, its features are reliable and specialised for the industry. However, these software solutions can be more complex, making usage difficult for new employees.
Difference between a Hotel Management System and a Property Management System?
A Hotel Management System (HMS) is a software that is specifically designed to manage a hotel. A Property Management System (PMS)  is a software that focuses on simplifying the management process for a building manager or facility manager, as well as other parties involved in the management of the property, such as investors and owners of the property. The difference between a PMS and a HMS is that a PMS has only a small fraction of the features that a HMS has to offer.
Main Features of Hotel Management Systems
HMSs offer different modules depending on your hospitality business needs. However, there are certain features all hoteliers should look out for.
Reservations & Bookings
Managing bookings through a reliable reservation system is a must for all hotels. Without reservation management, a PMS system won't be able to manage your bookings and therefore, your hotel's revenue.
Well-managed reservations reduce the chance of unplanned overbookings, improve the guests' experience and help generate revenue.
Hotel PMSs connect with multiple distribution channels (via a channel manager), including OTAs (Online Travel Agents), Google and travel agencies. This interconnectivity ensures your bookings are filed and accurate, regardless of the online channel used.
Channel managers are ideal if your main bookings aren't coming in via a booking engine on your hotel's website.
Customer Relationship Tools
Building trust with your guest base is essential. But, keeping track of rewards, points and guest preferences can be tricky.
A PMS with an integrated CRM (customer relationship management tool) can offer features to track guest rewards, points and preferences.
Nothing beats personalised services, and a great CRM is the perfect tool for hoteliers to deliver amazing guest experiences and keep guests coming back for more.
Real-time updates
Keeping track of everything is crucial when you're managing staff. PMS software provides real-time updates for maintenance, conference and banqueting and housekeeping staff. Meet successful room turnover in its smoothest state.
User-friendly interface
A PMS software with millions of features is excellent, but it's not worth much if it's confusing. Ideally, you want a PMS software your team can quickly adapt to. This will ensure your daily hotel business can continue without fuss.
Extra integrations
Another feature to consider is the ability for extra integrations. Some PMS systems offer additional revenue management features, online booking engines (for direct bookings), and channel manager options to connect your PMS to OTAs. Forget one travel agent connection, you can now connect your hotel to big providers like Expeda, GoogleHotels, and Agoda in a few simple steps. Hotel operations and your annual revenue will thank you!
Ready to browse different types of hotel management systems? Once you've settled on the features you want, it's time to explore your options. The two different types of hotel management systems are POS and PMS.
Both systems ultimately help to improve your guest experience and revenue via precise data management. POS and PMS aren't the same, so get clear on which suits your hotel's needs. Software that combines POS and PMS is available, ideal for any hotel chain with additional food and beverage department needs.
Benefits of Hotel Management Systems
Here are some of the benefits hotel software could offer your business.
Higher satisfaction for guests
A PMS with an integrated booking engine and front desk features will establish higher trust between you and your guests through positive interactions. From an easy check-in to personalised rewards, a PMS system is integral to building higher satisfaction for visitors. Whether you specialise in vacation rentals or hostels, keeping guests happy is the goal.
Better online visibility
Many factors affect your online visibility, including using the right software. Independent hotels and hostels regularly implement guest-facing software to improve their online positioning. Hotel website chatbots and guest portals upsell your experience, putting the customer first every time.
Smartphone optimisation is an important factor here. Consumers are more likely to book via a mobile phone or app. So, a PMS with smartphone-optimised tech is essential for assistance and queries.
Less time on admin tasks
We're all busy, so saving time on admin tasks is an obvious benefit. A cloud PMS software with a great booking system will save you hours. With admin and event management completed, you can spend more time making your guests comfortable.
Improved revenue management systems
Revenue management is a central factor in all businesses. With the right hotel PMS, you can use pricing tools to manage your revenue. You can set prices depending on seasonal demand, thanks to accurate data updates. Goodbye standard prices. Hello, customised rates and special offers.
Reliable daily reports
Data never lies. So, catching up on daily reports is a must for all independent hoteliers and hotel chains. Back-office teams can make key operations and marketing decisions with the latest numbers. Plus, real-time data is available whenever you need it.
Increased bookings
Ultimately, each feature in your property management system works together to increase your revenue. Revpar is integral to your hotel's success, and cloud-based solutions can help with the heavy lifting. From promoting your hotel on more OTAs to offering real-time occupancy data, PMS software is on your side. Direct booking channels and channel managers are critical features to look for.
Hotel Management System price
Finding a property management system with appropriate pricing is crucial. However, pricing often depends on your hotel's statistics. Your hotel property type, location, and the number of rooms all affect your bespoke price. Many PMS providers provide customised quotes based on your needs.
For the best deal? Consider all options. Shopping around different providers can help you make your decision.
How to choose a hotel property management system?
If you're ready to explore PMS options, take time to assess your company's needs first. Looking at your services will help you to decide which system will offer the best ROI.
Here are some key questions to consider.
On-premise or cloud-based?
On-premise and cloud-based software both provide unique benefits. At first glance, on-premise is is more challenging to install. But this type of PMS can be great for a hotel with weak or poor internet connectivity.
Cloud-based systems are easier to install and cheaper from the offset. They're also more accessible to employees that are new to the industry. This online software is a popular format for modern hotels.
How simple is the software?
Simple software saves time. The front office and back office staff need to use HMS software with efficiency. If your potential option looks complex, it might not be for your team. Less time spent decoding software means better room service and smiling guests.
More reads you might like
Image
GDS offers many advantages for hotels seeking to enhance their occupancy rates and overall performance, allowing them to thrive in a competitive hospitality landscape. These systems offer a gateway to a global network of travel agencies, online platforms, and travellers, offering unparalleled opportunities for growth and success.

Image
Payment gateways play a crucial role in the payment process. They encrypt and then securely transmit a customer's transaction data to the acquiring bank's payment processor. If you run a business that accepts card payments, then understanding this is essential. This is how you setup a payment gateway.
Image
In the evolving landscape of the hospitality industry, adopting hosted solutions is less of a choice and more of a necessity. Drawing from two decades of experience, it is evident that transitioning to hosted solutions isn't merely a matter of enhancing efficiency; it's about reshaping how we manage data in the sector, fostering a more adaptable and reliable business model.